Bhimseni Kapoor | Desi Kapoor | Bhimseni Kapur
Size
100 Gms
250 Gms
500 Gms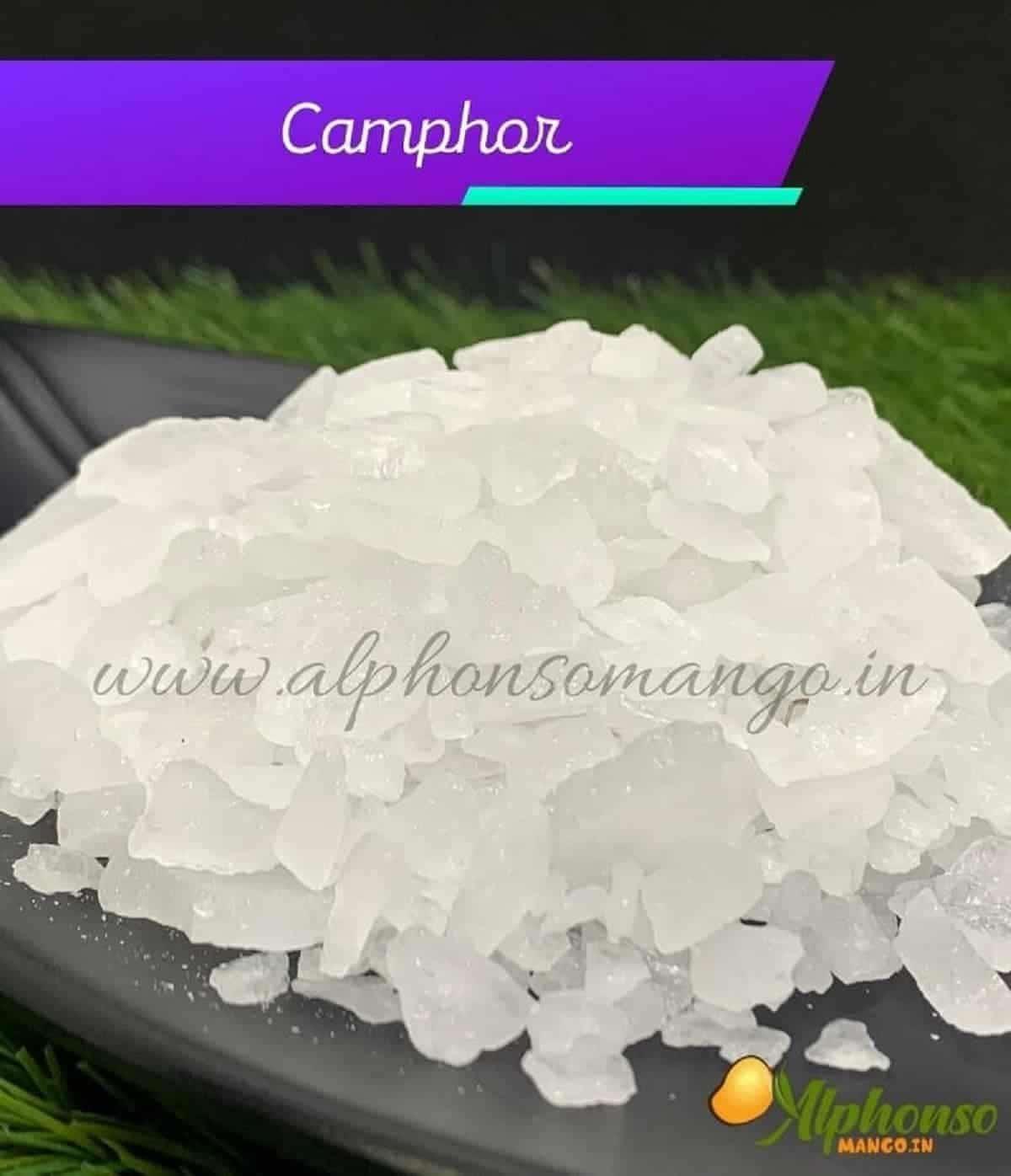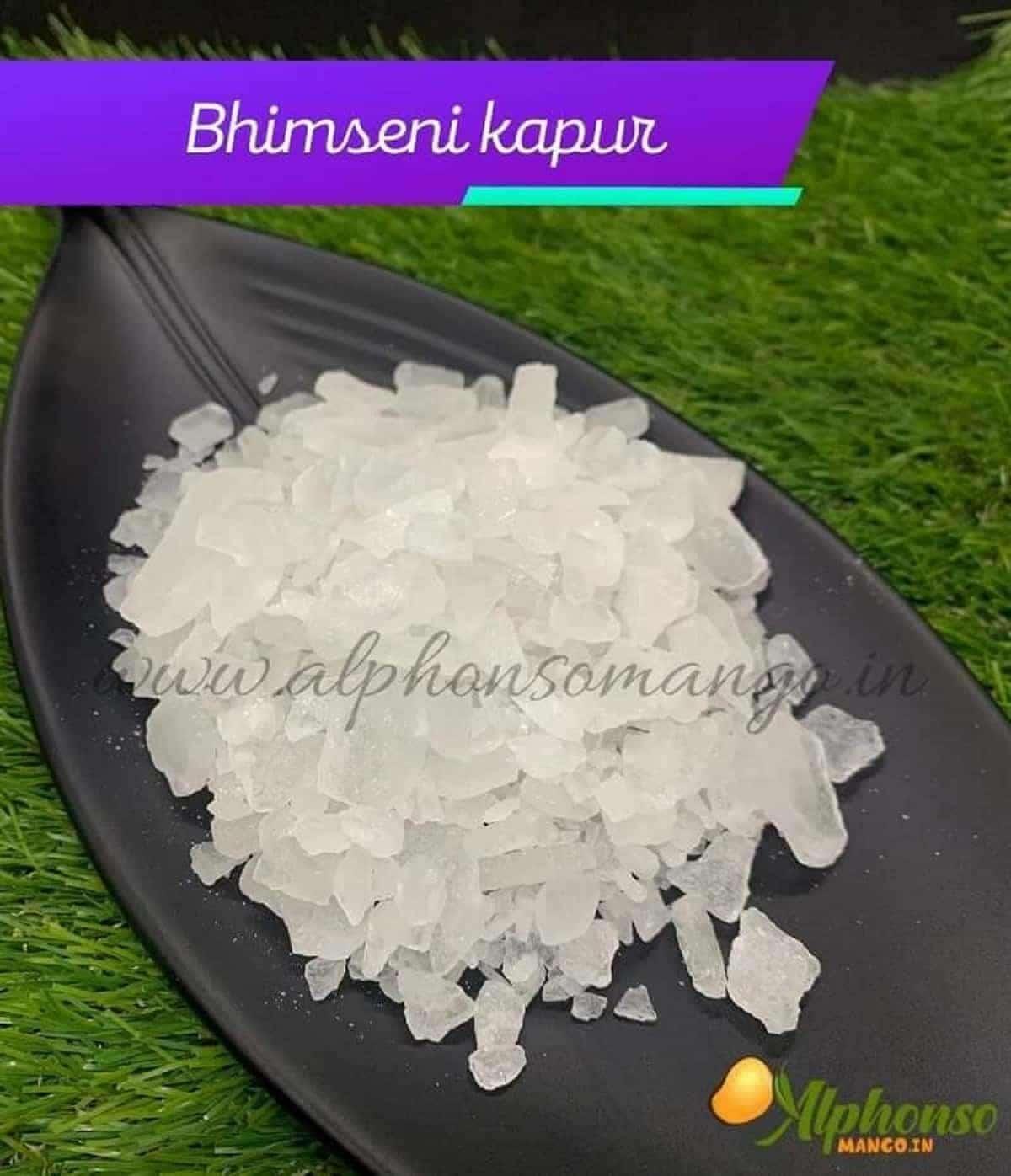 Ratnagiri Alphonso Mango
from

Rs. 699.00
Ratnagiri Alphonso Mango (Ratnagiri Hapus Mango, Ratnagiri Hapus)  Ratnagiri Hapus mangoes with a golden yellow and red non-fibrous juicy pulp with an attractive aroma & sweet taste. Grown in the coastal area of Ratnagiri Maharashtra Konkan. GI TAG Certificate: AU/5974/GI/139/260 FSSAI Registration Number: 10020022011783 Ratnagiri Alphonso Mango Enjoy the delicious, fiberless, soft-textured fruit with a saffron-hued flesh and sweet aroma. The King of Fruit has an alluring sweet taste and aroma that doesn't leave your hands for hours after eating it. 1 Peti Mango means  One Peti mango means 10 + 2 mangoes.  As mangoes tend to perish quickly, we have included 12 in one box to ensure you receive a sufficient quantity of this delicious fruit. (a total of 10 + 2 pieces in a box) Weight loss during the ripening process can be because of the natural dehydration of the fruit. Furthermore, mangoes tend to lose moisture. As a result, they ripen, which can also contribute to weight loss. Additionally, as the Mango ripens, its sugar content increases, which may also contribute to some weight loss. Fruits lose weight during Ripening as they release moisture. Weight of Mango while Harvesting | Weight of Mango in the Ripening Process  Weight while Harvesting The weight of the mangoes during harvesting largely depends on their maturity level. As the mangoes mature, their weight increases and the fruit becomes juicier and more succulent. Weight change of Mango in the Ripening process  Weight while Harvesting Weight change during Ripening 130 Gms to 180 Gms 102 Gms to 156 Gms 180 Gms to 220 Gms 157 Gms to 203 Gms 220 Gms to 250 Gms 203 Gms to 238 Gms 250 Gms to 290 Gms 211 Gms to 268 Gms  290 Plus Gms 240 Gms and above Mango A Day Keeps Doctor Away It has a rich, creamy, sweet pulp and a tender texture with shallow fibre content, making for a delightful fruit.  It is grown in the Konkan region of Maharashtra, the motherland of Konkan.  They have a proposed weight range, but it reduces after ripening. Buy Ratnagiri Alphonso Mango Online  In India, the fruit season starts as early as the end of February. The period it lasts extends until the beginning of the monsoon showers, usually in the first week of June or the last week of May. India has a diverse selection of fruits available during this season. RatnagiriAlphonsoMango com Now, you can buy this fruit variety from Maharashtra online with us at .com. Ratnagiri Alphanso mango It has a creamy, smooth texture and a distinct, rich taste with a perfect blend of aromatic sourness and sweetness. The colour is a golden yellow saffron hue. Tasty Ratnagiri Hapus Mango  A ripe mango skin turns into bright, dark golden yellow, With a red-spotted hue, which spreads across the fruit's top end.  Alphonso Aam (Ratnagiri aam, Devgad aam) Naturally grown with natural ingredients like farm waste, cow dung, and honey, this natural manure is highly effective. This manure is kept for decaying and activation. During the monsoon season, we make a circle pit around the mango trees and spread the waste in this pit.  Buy Ratnagiri Mangoes Over time, the base of trees undergoes a biological decomposition process with vermiculture, forming natural manure.  This manure contains many nutrients and vitamins slowly released into the soil.  Vegetable waste, cow dung, calcium shell powder, and panchagavya are natural fertilizers used in agriculture. Gomutra, which contains carbon, is also used in the process. Our farmer team treats our fruit trees with utmost care throughout the year.  We roll up our sleeves during the rainy season and get to work. We meticulously clean and prune our surroundings, ensuring that every inch of the space is well-maintained. We remove unwanted weeds and pesky grass, leaving a beautiful and vibrant environment behind. Our team also works to remove parasites and fungal infections from the trees, ensuring they remain healthy. In winter, our farmer team removes weeds that may grow near the trees during the rainy season.  Their unwavering efforts ensure that we provide our customers with sweet fruits that have a bright golden yellow colour in summer.  Once matured, the fruits have a kidney-shaped oval, a delectable sweet taste and a mesmerizing fragrance. How to Cut Ratnagiri Alphonso Mango Natural Ripening of Mangoes We source our mangoes from our selected group of GI-certified farmers in the Ratnagiri district of Maharashtra.  At our farms, we pride ourselves on our skilled and knowledgeable farmers who meticulously follow strict standard operating procedures to guarantee the highest quality of mangoes. We grow our mangoes naturally, without harmful chemicals, and carefully monitor their growth to ensure they ripen naturally and remain free of carbide or chemical treatments. We use the Natural Ripening process, avoiding any chemicals for Ripening. We do not ripen this using Carbide or any chemicals. Now, buy Alphonso Mangoes online. No chemicals are applied to the ripening process of this sweet fruit. It matured and ripened with the natural haystack ripening process.  We source these excellent quality fruits from this amazing district in Konkan. With authentic GI Tag certified Alphonso mangos, ripened without any chemicals and Carbide free. 1 Peti Mango Our Freshness Guaranteed box contains 12 pieces of mangoes, ripened using a natural process. Fruits are packed in semi-ripe or unripe conditions to withstand transport time. Once the package arrives, mangoes ripen and mature to a full golden saffron hue with sweetness and aroma. To help with ripening, unpack the box and arrange the mangoes on the floor with a stack of hay, rice straw, and grass supplied with the box or aam peti in our local language. They typically ripen in 6 to 8 days, so watch them then. Please leave them in a haystack outside the box for optimal Ripening They are packed as per our standard operating procedure and dispatched in semi-ripe condition to avoid any fruit damage during transit Only refrigerate mangoes if they are ripe and ready to cut within the next 30 minutes Avoid chilling them as this can spoil their taste; instead, put them in a water bowl for some time before cutting them We offer hassle-free home delivery across Pan India Please check with your doctor for any allergies to Mango.
Devgad Alphonso Mango |...
from

Rs. 699.00
Devgad Alphonso Mango: A Taste of Exquisite Delight Devagad taluka of the Sindhudurg district in Maharashtra, India, primarily grows the popular variety of fruit known as Devgad mango. Fruit lovers worldwide highly seek this variety of mangoes for its unique taste, aroma, and texture. The fruit ripens into a golden yellow colour and has oval-shaped, thin, yellowish-green skin. Devgad Alphonso Mango | Devgad Mango | Devgad Hapus | देवगड हापूस Multiple names of the tropical fruit of the SIndhudurga region. Its juicy, sweet, and fiberless pulp makes it ideal for eating fresh or using in various dishes like smoothies, ice creams, desserts, and salads. Discover the unique taste of Devgad Alphonso Mango, a sweet and tangy delicacy that has made it famous across India. Our growers cultivate it with Saffron and yellow colour gradients, resulting in a sweet and fascinating taste you won't find anywhere else. Buy yours now and taste the purity of India's finest farms today! Buy Devgad mango Online. Experience the world-renowned sweetness and aroma with the fruity smell of Hapus delivered straight to your door, no matter where you are in India. The Devgad Alphonso mango has a fascinating history. It was brought to India by the Portuguese explorer Alfonso de Albuquerque, who also led many Portuguese invasions in the 1600s. The Alphonso mango travelled from Goa to different places like Ratnagiri, other Konkan regions and southern parts of India. Growers later brought grafts from Ratnagiri to Devgad in the early 19th century. They planted them in existing trees of other species, producing the delicious Devgad Alphonso mangoes. Of Hapus delivered straight to your door, no matter where you are in India. This exquisite variety of Indian mangoes boasts a bright red colour and firm texture, making it ideal for savouring in aamras or simply enjoying fresh. Take advantage of this delicious treat! GI Certificate: AU/5974/GI/139/260 FSSAI Registration Number: 10020022011783 Experience the exquisite taste of the King of Mango from the comfort of your home. This mango variety is renowned for its yellowish-sweet flesh, captivating fragrance, and pleasant firmness, making it the supreme choice among its peers. Its lovely taste has won the hearts and palates of mango lovers worldwide. Thanks to the ease of online ordering, you can now eat the King of Mangoes without visiting the devgad or market. We can deliver this royal treat directly to your doorstep with just a few clicks. Devgad Alphonso mangoes uniqueness? Devgad Alphonso mangoes are unique due to their lovely taste and aroma. They are grown in the Devgad taluka in the Sindhudhurga district of Maharashtra, India. These mangoes have a rich, creamy texture and a sweet, tangy flavour that is unrivalled. They are also known for their vibrant saffron-coloured sweet and sour flesh and minimal fibre content. 1 Peti Mango One Peti means 10 + 2 mangoes.   Weight change of Mango in the Ripening process  Weight while Harvesting Weight change during ripening 130 Gms to 180 Gms 102 Gms to 156 Gms 180 Gms to 220 Gms 157 Gms to 203 Gms 220 Gms to 250 Gms 203 Gms to 238 Gms 250 Gms to 290 Gms 211 Gms to 268 Gms  290 Plus Gms 240 Gms and above   Devgad Alphonso Mango Buy Online This Tropical fruit is pulpy, and sweet fruit gives a sweet rush to your taste buds. Serve them as a dessert or eat a slice; no one can deny them. Are you looking for the juiciest and most delicious Devgad Alphonso Mangoes? You're in luck! You can now buy them online and enjoy their sweet and tangy flavour from the comfort of your own home. Take advantage of this opportunity to indulge in one of the most sought-after mango varieties in the world! Mangos, Semi Ripe Have you ever tasted a mango that's not quite ripe but not quite green, either? That's a semi-ripe mango and a culinary adventure waiting to happen! These special mangoes are firm and perfect for adding a unique twist to your favourite dishes. These fruits are sent semi-ripe for easy transportation and to ensure they arrive fresh to our customers across India. Whether craving something sweet or savoury, semi-ripe mangoes can be your new best friend. They are packed with vitamins A and C that are good for you and add a healthy touch to any meal. King of Devgad Mangoes Located in the Sindhudurg district of Maharashtra, India, the Devgad Taluka region comprises the towns of Malvan, Vengurla, and Vijaydurg. We source our hapus mangoes directly from our team of esteemed farmers in this fertile land, famous for its delicious fruits. Imagine a picturesque landscape of colourful and lively villages where our farms are nestled in the heart of rural India. It's a place where nature and culture unite to create a unique tapestry of diversity and vibrancy. From the quaint hamlets of Jamkhed and Rameshwar to the bustling communities of Gadhi Tamhane and Hindale, our farms are scattered across the countryside, each with unique charm and character. Whether it's the serene beauty of Dahibhav, the rustic charm of Dhalavali, or the lively energy of Girye and Baparde Hadpid, our farms offer a glimpse into the rich tapestry of Indian village life. So come and explore the hidden gems of Hurshi, Shirgaon, Talebajar, Tembhavali, Welgave, and many more villages, and experience the magic of rural India for yourself! Our team carefully selects only the finest hapus that meet our stringent quality standards. The region's rich soil and nurturing climate give these exceptional mangoes a captivating golden saffron hue. The Hapus Amba is known as the King of Fruits worldwide because of its sweetness and beautiful flavour that explodes upon biting into a ripe one. To honour this trend, we are committed to preserving the tradition of Hapus Aam by partnering with local farmers and adhering to sustainable farming practices. This dedication ensures that every Hapus that reaches your table symbolises our farmers quality, flavour, and passion. Devgad Mango Nutrition Hey there! Despite the limited harvesting season in India, which typically begins in February and lasts until May or the first week of June, If you want a delicious and healthy snack, try Alphonso mangoes! These juicy fruits are not only packed with flavour but also loaded with nutrients. They are rich in Vitamin C, and A, and dietary fibre, making them a great addition to any balanced diet. And the best part? You can indulge in the sweet taste of Alphonso mangoes guilt-free, as they contain only 100 calories per cup. So why not treat yourself to some Alphonso mangoes today? Mango Alphonso Devgad India boasts a range of mango varieties, with the Devgad Alphonso Mango widely known as the king of mangoes worldwide. Due to the relatively short harvesting season, typically from February to May or the first week of June, the Alphonso mango variety reigns premium as the global king of mangoes. Its origins in Maharashtra, the heart of India's mango-growing region, further support this award. The Mango Alphonso is a highly sought-after variety of mango, known for its sweet and juicy taste. India is a mango lover's paradise with its universal range of varieties. Devgad Hapus Online Characteristics A tropical fruit cultivar thrives on the Arabian Sea coast, nourished by a rich historical land with abundant minerals. The refreshing sea breeze sweeps across the aamrai farms, infusing them with freshness. The Arabian Sea coast, historic areas, mountains, and fertile soil harmoniously converge to create a symphony that shapes the exceptional flavour of this tropical fruit. Devgad Taluka & Devgad hapus Aam They are renowned for their exquisite taste. These Hapus are grown in Devgad taluka on Maharashtra's western coast. Our primary objective is to preserve the quality and flavour of these tropical fruits by implementing sustainable farming practices. We work closely with local farmers, guiding them on the best farming techniques. Our top priority is delivering the finest product to our customers while benefiting the community and promoting economic development. Devgad Amba: River-Nourished, Sea-Kissed Delight Our Devgad Alphonso mangoes grow in unique orchards surrounded by beautiful rivers, lakes, and the ocean. The calm wind from the sea makes the mangoes a beautiful golden-yellow colour. As the fruits mature, they transform into kidney shapes. Plants thrive naturally, nourished by shell calcium & natural manure. These practices foster unique flavour, aroma, and exceptional quality. Our Hapus are sustainably cultivated to preserve their unparalleled flavour and aroma. From orchard to table, we're committed to protecting the integrity of these exquisite fruits with our natural farming practices.  GI Certified Devgad Alphonso Mango Online Our Devgad Alphonso mangoes are brought to your home by our GI Certified Farmer partners in Devgad, Sindhudurga Maharashtra. We cultivate these delicious fruits on over 37,000 hectares of land in the region, ensuring a consistent supply of high-quality fruits. The expertise and dedication of our partner farmers to sustainable farming practices are crucial factors contributing to our Alphonsomango exceptional flavour and responsible cultivation. How to Cut Mangoes  Devgad Hapus from Sindhudurg, India Chemical-free and carbide-free: We don't use any harsh chemicals or carbide to ripen our mangoes. Instead, we use a unique process that lets them mature naturally, just like they should!  It means you're getting the freshest, healthiest mangoes possible. Authentic GI Tag-certified Hapus: We source our mangoes from the Ratnagiri district, famous for growing the best Hapus mangoes in the world. You can be sure you're getting genuine GI Tag-certified Hapus when you buy from us. Guaranteed freshness: We pack our mangoes when they're still semi-ripe or unripe as per the location and transit days. This way, they stay fresh and delicious during transport and arrive at your door ready to enjoy. Ripening process: After receiving your Hapus, unpack and arrange them on the floor with the provided haystack. Within 3 to 4 days, they will ripen to a beautiful golden saffron hue and develop a mouthwatering sweetness and aroma. So why wait? Order your fresh, naturally ripened Hapus mangoes today! Mango Care Keep them fresh: Wait to put your mangoes in the fridge unless they are already ripe! It will help them stay delicious and flavourful. Soak for extra sweetness: Before cutting your ripe mango, soak it in a water bowl for a few minutes. It will make it even sweeter and juicier! Delivery right to your door: We deliver our delicious Alphonso mangoes across India, so you can enjoy them anywhere you live. Talk to your doctor first: If you have any allergies, it's always a good idea to talk before eating mangoes. Enjoy your Mangoes with multiple Mango Recipe.
Buy Alphonso Mango Online:...
from

Rs. 699.00
Alphonso Mango Order Hapus Mango Online for Delicious Flavor King of Mangoes Hapus mangoes, also called Alphonso mangoes. With juicy pulpy and a fantastic yellow tinge. From the Coastal southern Konkan area of Maharashtra.  Tropical fruits, known for their unique taste, are grown in the excellent climatic conditions of Konkan, resulting in fresh mangoes with a unique flavour. The Ratnagiri Hapus Mango, also known as the Hapus mango, is the King of mangoes due to its rich and creamy texture and sweet, aromatic flavour. It is mainly grown in Maharashtra in India, particularly in the small villages of Ratnagiri and Devgad. Unfortunately, some traders in the market try to deceive customers by selling inferior mangoes from other regions by labelling them as Devgad Hapus or Ratnagiri Hapus. Purchasing Alphonso mangoes from trusted sources like ours is vital to ensure their authenticity and quality. The Alphonso mango is a fruit only available during a specific season when harvested from mid-February through the first week of June or the end of May.Depending on its maturity, it takes about 80 to 100 days for the Fruit to mature from flowering to harvest. In the rainy season, harvesting is stopped and we keep the fruits on the tree that are left.  After harvesting, the Fruit takes approximately 9 to 15 days to ripen. Alphonso mangoes usually weigh between 130 and 350 grams (4.5 and 12.3 oz) and have a rich, creamy, tender texture with a delicate, non-fibrous, juicy pulp. As the Fruit matures, the skin turns golden-yellow with a tinge of Red across the top of the fruit east facing towards sunrise on the tree. GI TAG Certificate: AU/5974/GI/139/260 FSSAI Registration Number: 10020022011783 A local name is Hapus, which means Alphonso selected as the world's best and most costly Alphonso Mango. What is an Alphonso mango? The Alphonso mango is a variety of mangoes considered one of the best mangoes in the world. It is known for its rich, sweet, aromatic flavour, smooth texture, and vibrant orange colour. It is often called the King of mangoes and is highly sought after by mango lovers. 1 Peti Mango means One Peti hafoos means 10 + 2 mangoes.  Due to its perishable nature, we have compensated by giving ten mangoes + 2 in one box. (a total of 12 pieces of mangoes in a box) Hapus Aam - Hapus Amba  Afonso de Albuquerque, an emperor builder, was posted by Portugal in India. A horticulture lover by hobby, he grafted the Tropical drupe Fruit. They called King Alphonso in Konkan. Giving birth to a different species and recorded in the hafus world. Hapus or Haapus Mango of India The lord of mangoes is entitled and named him Alphonsohapus. It was also pronounced as Haphonso, Hapus, and finally named Hapus Amba in Maharashtra, India. Later, it was called Hapoos and later changed to Hapush.  How do Alphonso mangoes compare to other varieties? The taste of Alphonso mangoes is often described as rich, sweet, and creamy, with hints of citrus and tropical flavours. The texture is smooth and buttery, with minimal fibres compared to other Aam ka varieties. Alphonso mangoes are known for their exceptional flavour and meltingly soft flesh. Origin of Hapus! This species is cultivated in the Konkan belt. Right from Tal Konkan Devgad, Sindhudurga, and Ratnagiri districts. Known for lavish grade AlphonsoMangoes. This King of hapus is in high demand in International and Domestic hearts. Known for its taste, sweet smell, and vivid colour.  Hapus Mango Online The Alphonso with a bright sunset yellow colour. With a hue of saffron shade in the inner pulp. The outer skin is called with a name as Hapus Aam. In most Northern states or Hapus no Kairi or Hapus ne Kairi in Gujarat. Buy Hapus Aam online. A slightly acidic orange may be at the tip of the Fruit, with a sweet and sour taste in Unripe or less mature Fruit. But many folks enjoy the medium to big Alphonsomango fruit, with very little fibre in the fruit tissue.    Weight Loss in the ripening process Fruit intends to lose weight during the ripening process. As it leaves, the moisture and water from the Fruit. Weight of Mango while Harvesting and weight change of Mango in the Ripening process  Weight while Harvesting Weight change during ripening 130 Gms to 180 Gms 102 Gms to 156 Gms 180 Gms to 220 Gms 157 Gms to 203 Gms 220 Gms to 250 Gms 203 Gms to 238 Gms 250 Gms to 290 Gms 211 Gms to 268 Gms  290 Plus Gms 240 Gms and above Packaging of 6, 12 and 24 pcs Hapus Mango Ratnagiri & Devgad Aamrai trees in Orchards are distributed across 35,000 hectares of land. Fertile soil in Maharashtra Konkan farmland. It is situated in the Konkan belt of Maharashtra Sindhudurga & Ratnagiri districts. The yield of these fruits is in some lakh tonnes in Konkan.  Hapus Mango Export It is the world's most beloved King of fruit export.  They are exported worldwide to Europe, Gulf countries, Japan, and Korea. New markets such as Australia and the United States have lately started up.  Hapus Mango Buy Online An array of minerals for the wellness of this Fruit, like Calcium, potassium, and magnesium. The farmlands of Konkan are fertile, with a mix of Red and black rich soil. Other minerals are also present in the land on the western coast of India. Aam Bagh is in the Arabian Sea centre and another range of Sahyadri and Western Ghats. From the coast of the Arabian Sea by Sahyadri & western Ghats range of elevation. This helpstheirm growth helps blocks the salty, windy breeze. Given taste, it is typical of Hapus Amba from the Maharashtra Konkan belt. Many of us describe it as the best Fruit on Earth.  How to cut Hapus Mango Hapus Mango Near Me Alphonsomango variety of Aam cultivation is of Fruit. With a short to mediocre look, roundish stone fruit, and a curved shape with a curved tip at the base. With a dim look and feel, skin with soft spots, and patchy reddish-yellow colour. Little green shade on top when the Fruit is mature and Unripe. Hapus Mango GI Tag Farmers from Devgad (Inclusive of Sindhudurga), Ratnagiri, Alibaug, Thane & Palghar districts. Mangoes can be synonymous with Alphonso Mango. Other area mangoes cannot title this Mango as Hapus or Alphonso Mango. For example, Karnataka and Gujarat farmers growing these mangoes will not be called Hapus or Alphonso Mangoes. Tasty Mangoes With a hot, scorching summer about to start, it is known. There will be a high demand for three things to eat in King of Fruits, mangoes and more. Mango with aroma and colour combine in taste buds, with natural taste with real. Make Hapus Amba one of the world's most popular Mango varieties. With a lovely taste and light orange pulpy flesh with a Saffron smell. With a helpful storage life of 6 to 8 days during the ripening process. I love this Fruit as it is peeled and cut, or direct soft hand-squeezed mango pulp to be sucked. It can also be used for Aam Panna, papad, Aamras Puri, Amrakhand, and Cheesecakes. Along with tasty Ice cream, Jams, Juice, and Mango Pulp. You can make Nectar, Smoothies, Squash, and other delicious sweets and desserts. The famous Alphonso with GI tag is needed globally—team Relentless effort and work for getting the GI tag. Who assists farmers in the Konkan region of Maharashtra with their joint efforts. Health Benefits It is known for its use best eyesight. It is used for glowing skin Fairness, helps prevent cancer, and alkalizes your body. It is a fruit with abundant copper, magnesium, and other minerals. It is embedded in the Fruit by Mother Nature. It helps you to enhance your sex life and drive during Libido.  Key Pointers about this Fruit Chemical and Carbide free Fruit. We deliver Pan India by air. It might be Delhi, Bangalore, Hyderabad, Chennai, Ahmedabad, Surat, Indore, UK, Kerala and all states of India. Directly from our farm to your home. From our orchards in Devgad, Ratnagiri, and Sindhudurga in Maharashtra, India. We ensure our fruits are not ripe without using chemicals like Carbide or other ripening chemicals. Natural and authentic GI Tag With GI Registration Alphonso mangos with Guaranteed Freshness  Box packing starts with Fruits will be ripe to whole yellow-orange saffron Hue colour—a sweet smell after arrival as per their ageing process. They are packed in unripe or semi-ripe conditions as per their travel time. Generally, it takes one to four days to ripen once it reaches home. With a haystack, which will be there in a mango box? Please open the box and arrange all the fruits on the floor. In 6 to 8 days, these processes will help ripen tropical fruits. Packed as per SOP & sent in semi-ripe, it avoids Fruit damage due to ripening. As a standard guide, never refrigerate them. You may put them in the refrigerator when they are ripe and mature. You are ready to consume them in the next 30 minutes. Please don't spoil the Mango's taste by cooling it. Instead, please put it in a cold water bucket before eating and cut it. Enjoy a taste of delectable alphonsomango. Please check with your doctor for any allergies to Alphonso. Buy Kesar in Ahmedabad Traders click here
Gir Kesar Mangoes Online....
Rs. 899.00
Gir Kesar Mango Buy Online Gir Kesar mangoes are a type of Mango grown in the Gir region of Gujarat, India. They are known for their sweet, creamy flavour and bright orange colour. Gir Kesar mangoes are considered one of the world's finest mangoes. Kesar Mango One Dozen Mix Size Kesar mangos, called Kesar, means Saffron, Kesar, one of the world's high-cost spices. Kesar Mango is grown in Gujarat & Maharashtra, with firm saffron-coloured pulp with a sweet taste & aroma. Kesar Mango Online Called Kesariya Aam or Kesar no Kairi in Gujarat. There may be a small acidic range with a sour taste in unripe or less mature Fruit. But many folks enjoy the medium to big-sized mango fruit, with minimal fibre in its flesh of Fruit. Kesar Mango tree Orchards are planted across 20,000 hectares of land with fertile soil. Planted across Maharashtra and Gujarat range mountains' foothills, Junagadh and Amreli. It is also produced in some parts of Maharashtra. The yield of these fruits is some lakh tonnes in Gujarat & Maharashtra. Farmland is fertile, with a mix of red-black rich soil. Farmlands are rich with minerals for the growth of this Fruit. They are rich in Calcium, potassium, magnesium, and other minerals. Kesar Mangoes Online Delivery Aam Bagh is in the Arabian Sea center on one side and another range of Girnar mountains. It helps the Mango trees' growth. It helps block the Arabian Sea's salty, windy breeze by elevating the mountain range. A significant mango variety from India. Given its taste, it is second to Alphonso mango from the Maharashtra Konkan belt. Which many of us describe as the best on planet earth. High export demands and top local markets in India. Kesar's variety of Mango cultivation is Fruit with a short to mediocre look stone fruit. With a curved shape and a curved tip at the base. With a dull look and feel, the skin has soft spots. A patchy yellow colour and a little green shade when the Fruit is less mature. History of Kesar Mango કેસર કેરી Who grew this range of Fruit? Wazir Sale Bhai from Junagadh first planted This variety of mango trees. Wazir Sale Bhai transplanted 75 grafts. Of this variety in the foothills of Girnar near Junagadh in India ~ 1931. This Fruit was named by Nawab Muhammad Mahabar Khan III when it was presented to him. He called this mango fruit Gir no Kesar. Thanks to its yellow-orange saffron-hued thick, sweet pulp. With an inside look, a different matter, a deep flesh with yellow-orange saffron hue colour. Soft and aromatic with extreme sweetness when they are in peak ripe condition. Kesar mangoes can be synonymous with Kesar Mango, Kesar aam, Kesar no Kairi, & Kesar Amba. With the hot summer which is about to go, you will love these mangoes. There is a known demand for three things to eat in the king of Fruits: mangoes, mangoes, and more. If you get both Saffron and Mango combined in taste buds, with the natural taste of real mangoes. With a lovely taste, light orange pulpy flesh. And a Saffron smell. These features make Kesar one of the world's best mangoes with a 6 to 8-day shelf life. Best Fruit loved as peeled and cut, or direct soft hand-squeezed mango pulp to sucked. It is also used for Aam papad, Cheesecakes, Ice cream, jams, and juice. They are also used in Mango Pulp, nectar, smoothies, squash, and other tasty sweets. Health Benefits of Mangoes They are known for good eyesight and are used for skin Fairness. It also helps prevent cancer and alkalizes your body. It is a fruit that is rich in copper. It helps you to enhance your sex drive during Libido. It betters your digestion system. It helps raise your memory levels. It also Lowers cholesterol levels in the blood. Key Points About This Fruit Chemical and Carbide free Mango. From mango orchards In Maharashtra and Gujarat, India. We ensure our Mangoes are not ripe using chemicals like Carbide or other ripening chemicals. They are grown naturally chemical-free. With Freshness Guaranteed Box packing Starts with They were packed in the unripe or semi-ripe condition that faces travel time. Fruits will be ripe to full yellow-orange saffron Hue colour. A sweet smell after arrival as per their ageing process. Generally, it takes one to four days to ripen once it reaches home. Please open the box to arrange all mangoes on the floor with a haystack with a mango box. In 6 to 8 days, these processed ripe fruits watch mangoes. Packed as per SOP & sent in semi-ripe, it avoids Fruit damage due to ripening in transport. As a standard guide, never refrigerate the mangoes. Refrigerate only when they are ready and ripe. Mature and ready to eat in the next 30 minutes. Please don't spoil the mangoes' taste by cooling them. Before eating, please put them in a cold water bucket and then cut them for a lovely experience.